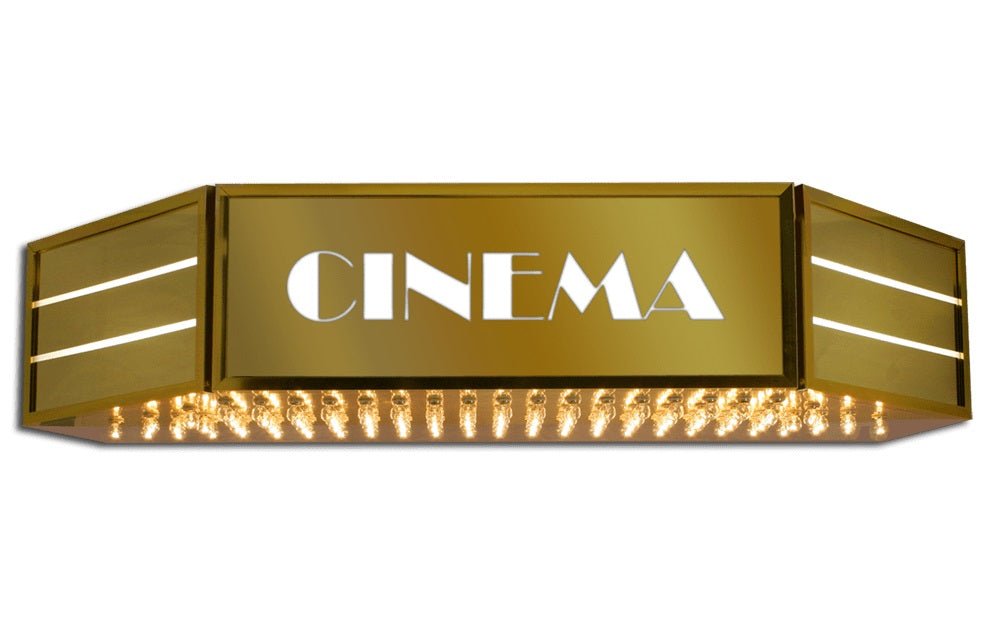 Theater signs are arguably the most important element of a well-designed home movie theater. Whether you are looking for cinema signs or a movie theater sign to welcome guests at the entrance of your theater, a quality home theater sign is vital for creating the right ambiance in the room.  Here at Home Theater Mart, we help homeowners and businesses make their theaters look amazing.  The craftsmanship and artistry that goes into every theater sign shows in the quality of each sign.  For homeowners, the theater signs help homeowners bring the look and feel of a movie theater into their home. For commercial theaters or businesses, our movie theater signs provide guests with authentic experiences they will remember.
Why Choose a Theater Sign for Your Home?
Commercial Theater Signs like marquees tell potential customers what movies are playing. Home theaters can have the same look, adding a bit of authenticity to their décor.  Adding a Theater Signs to their home theater can really make a difference. They can choose from many different signs to really boost the appearance of the room and let family members know when it's time for a fun movie night together.
What Theater Signs are Available?
Marquees are a type of Theater Sign that enables the homeowner to post the name of the movie they'll be watching for the family movie night. They can change it at the beginning of the week and give everyone the chance to get excited about seeing a movie together at home.
Homeowners can also choose Professional Theater Signs that are programmable so they can easily change the name of the movie that's playing or display other important information inside the theater whenever the family watches a movie. These theater signs are typically easy to use so the homeowner can change what it says as often as they want.
Concession signs are a way to let the family members know what's available to munch on. Like movie theaters, there might be treats like popcorn and candy near the concession signs that family members can enjoy. These are a part of a traditional movie theater and can make the home movie theater feel more like the real thing.
LED signs light up to show off the sign and can include simple designs, words, or both. Many of the LED signs available are based on Commercial Theater Signs or on a design the homeowner prefers. For an eye-catching and one-of-a-kind entrance to the home theater, an LED sign can have the homeowner's name on it.
What if the Family Prefers a Unique Theater Sign?
Some homeowners might want the look of Commercial Theater Signs in their home movie theater. Yet, many homeowners might prefer to look for something a little more unique.
Personalized LED signs let the homeowner think of what they want the sign to look like and have it created just for them. A home movie theater can be completely unique with custom Theater Signs that light up, yet still let the family feel like they're in a movie theater.
If you'd like to make your home movie theater look a little bit more authentic, Theater Signs are the answer. Be sure to check out all the movie theater signs available today or inquire about a personalized option to find the perfect signs for your home theater. The right signs will bring the look and feel of a movie theater to your home theater.